Organization of DMRC
Promoting advanced research regarding disaster mitigation and conducting research in collaboration with industry. In order to achieve both goals, we have established a Social Cooperation Division and a Research Cooperation Division.
(as of April 2015)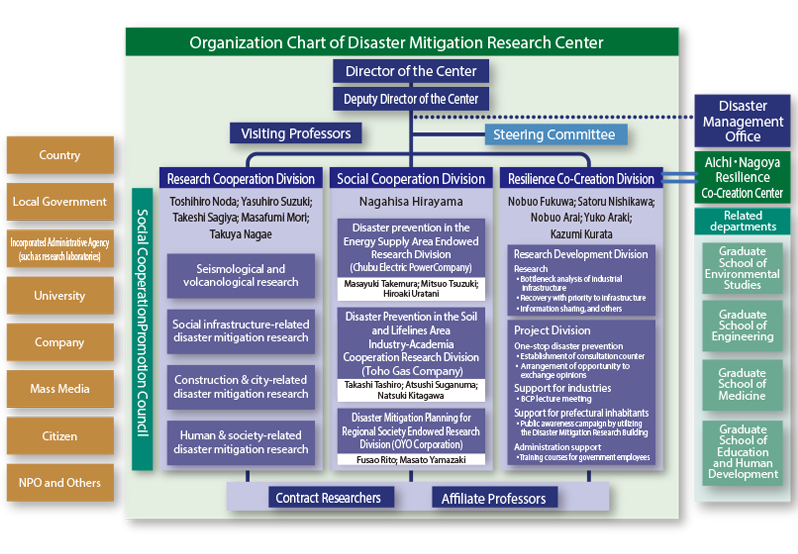 With these two pillars: the Social Cooperation Division and the Research Cooperation Division, the DMRC at Nagoya University strives to conduct research, disseminate information, and raise awareness of the challenges of disaster mitigation. It does this in cooperation with related departments including the Social Cooperation Promotion Meeting, the Graduate School of Environmental Studies, the Graduate School of Engineering, the Graduate School of Medicine, and the Graduate School of Education and Human Development.
The Social Cooperation Division comprises three divisions: the Research Division on Disaster Precautions in the Energy Supply Area, the Disaster Precautions in the Soil and Lifelines Area, and the Research Division on Disaster Mitigation Planning for Regional Communities. All of these divisions are funded through private donations, and together they discuss how to ensure safety and reassurance for the region from the perspective of industry and corporations, while contributing to human resource development.
The Research Cooperation Division conducts leading research into disaster mitigation, undertaking studies on earthquakes and volcanoes, social infrastructure-related disaster mitigation, construction and city-related disaster mitigation, and human and society-related disaster mitigation.
When public administrative bodies, citizens, mass communication organizations, and NPOs join such activities and begin to exchange opinions, it is possible to develop truly collaborative research that transcends the various fields of study and the entities implementing the measures.
Disaster Management Office, Nagoya University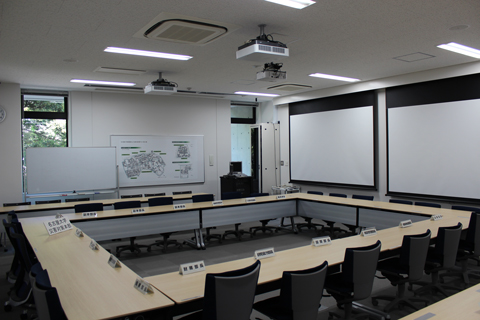 Disaster Management Headquarters
The Disaster Management Office of Nagoya University was established in October 2002 with the aim of maintaining the university's own disaster prevention system while enhancing disaster prevention capability at a regional level. With regard to disaster prevention within Nagoya University, the management office is responsible for the development of systems for responding to disasters, planning and implementing disaster prevention drills, maintaining the safety of buildings, and managing disaster prevention-related facilities. Through collaboration with researchers from the Graduate School of Environmental Studies and other departments of Nagoya University as well as citizens, the office is also engaged in practical research and social activities that transcend the fields of humanities and social and natural science. Responding to the establishment of the DMRC, the main role of the management office since ¬fiscal 2011 has been disaster prevention within Nagoya University. The Great East Japan Earthquake inflicted damage on universities in the Tohoku area. This lesson highlights an urgent need for Nagoya University also to further strengthen its disaster prevention ability quickly. The establishment of Nagoya University's Disaster Management Headquarters in the Disaster Mitigation Research Building will enable the university to use the facilities to enhance its function as a hub for intra-university disaster predrills and lectures. The Disaster Management Office will strive to enhance the disaster prevention capability of Nagoya University, a massive organization that encompasses 24,000 people, alongside the DMRC.
Return to the top of the page