Organization
Promoting advanced research into disaster mitigation and conducting research in collaboration with industry In order to achieve both of them, we have established three divisions: Research Cooperative Division, Social Cooperative Division and Resilience Co-Creation Division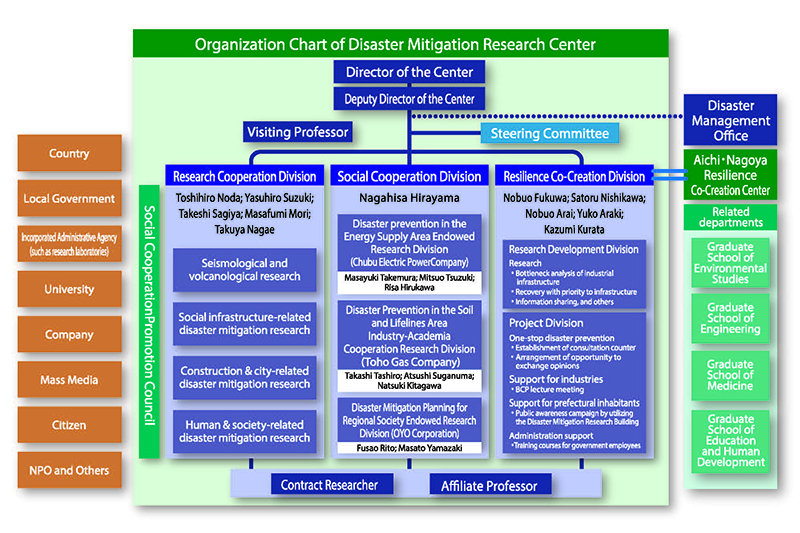 With these three pillars: the Research Cooperation Division, the Social Cooperation Division, and the Resilience Co-Creation Division,the DMRC at Nagoya University strives to conduct research, disseminate information, and raise awareness of the challenges of disaster mitigation. It does this in cooperation with related departments including the Social Cooperation Promotion Meeting, the Graduate School of Environmental Studies, the Graduate School of Engineering, the Graduate School of Medicine, and the Graduate School of Education and Human Development.
The Research Cooperation Division conducts leading research into disaster mitigation, undertaking studies on earthquakes and volcanoes, social infrastructure-related disaster mitigation, construction and city-related disaster mitigation, and human and society-related disaster mitigation.
The Social Cooperation Division comprises three divisions: the Research Division on Disaster Precautions in the Energy Supply Area, the Disaster Precautions in the Soil and Lifelines Area, and the Research Division on Disaster Mitigation Planning for Regional Communities. All of these divisions are funded through private donations, and together they discuss how to ensure safety and reassurance for the region from the perspective of industry and corporations, while contributing to human resource development.
The Resilience Co-Creation Division aims to, develop practical methodologies for various stakeholders in our region to commit themselves for preventive action, create common fora for the various stakeholders in our region to discuss better ways for disaster mitigation and thus forge new ideas, identify bottlenecks against quick recovery after major disasters and propose solutions. This division provides advice to industries, public sectors and civil society organizations for their resilience planning and provides various knowledge & information sharing opportunities based on academic research.
When public administrative bodies, citizens, mass communication organizations, and NPOs join such activities and begin to exchange opinions, it is possible to develop truly collaborative research that transcends the various fields of study and the entities implementing the measures.


Aichi・Nagoya Resilience Co-Creation Center
Promoting research development and projects strategically with cooperation between industry, government and academia, in order to maintain socio-economic activities in Chubu area with a core of Nagoya, Aichi at the time of a large-scale disaster. It comprises two divisions: Research Development Division and Project Division. The Research Development Division promotes bottleneck analysis of industrial infrastructure, recovery with priority to infrastructure and research of disaster information base. The Project Division promotes one-stop disaster prevention (establishment of consultation counter and arrangement of opportunity to exchange opinions), human resources development for industries (BCP course of lectures), human resources development for citizens (enlightenment activities by utilizing the Disaster Mitigation Research Building) and human resources development for administration (training courses for government employees)
Nagoya University: Nobuo Fukuwa; Satoru Nishikawa; Nobuo Arai; Yuko Araki; Kazumi Kurata; Shogo Hashitomi Cooperative associates; Takuo Katsumata; Kenji Kobori; Morihisa Ishikawa; Yuki Kawasaki; Yuki Arakawa; Tomoya Yamazaki
Head of office: Yasuo Kanahara
Disaster Management Office, Nagoya University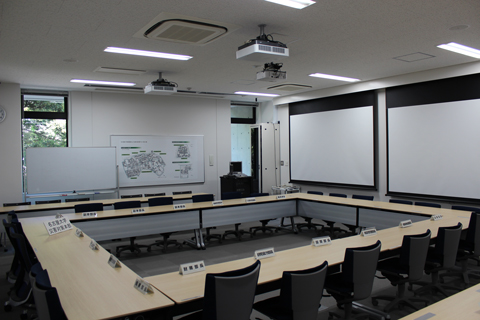 Disaster Management Headquarters
The Disaster Management Office is the administrative support organization of Nagoya university for improving disaster prevention and mitigation ability of the university. It promotes improvement of disaster management activity including disaster prevention system within the university, business continuity plans and disaster prevention drills, while it promotes safety measure for buildings, disaster information facilities and disaster prevention education. Nagoya University's Disaster Management Headquarters will be established in the Disaster Mitigation Research Building. Accordingly, drills and lectures are implemented by using the building while it is maintained as the disaster prevention base. In June 2017, eight national universities in the Tokai region concluded an agreement on large-scale disasters response and the system for disaster response in cooperation between universities is being prepared.
The Disaster Management Office will strive to enhance the disaster prevention capability of Nagoya University, a massive organization with various education and research functions that encompasses more than 25,000 people, closely cooperating with the Disaster Mitigation Research Center.
Members of Disaster Management Office: Jun Tobita; Satoshi Iwasa; Naoko Inayoshi
Return to the top of the page